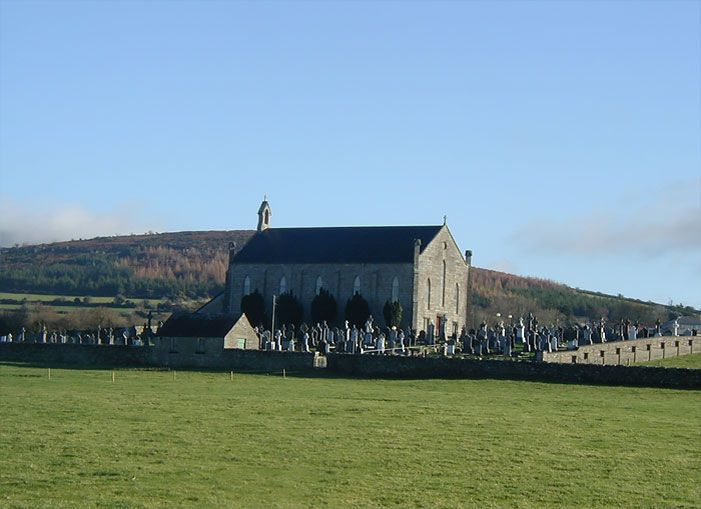 Mass Time:
Saturday: Vigil Mass 7:30 p.m.
| | |
| --- | --- |
| | |
| Saturday | Vigil Mass 7:30 p.m. |
Date of Church: 1846
Building Pastor: Fr. Christopher Doyle P.P.
Sacristan: Ann Breen
Named after Matthew Murphy of Clonroche, a powerful landowner and builder of a castle in the area in the mid-17th. Century.
The Rathgeran Stone in the vicinity is thought to be very ancient, perhaps as old as Newgrange.
The granite stones for St. Patrick's Church were hammer-dressed.
The church bell was removed and erected on the school grounds beside Borris church. A new bell, presented by Mr. Byrne (Bell Foundry, Dublin), native of Ballymurphy, was erected on an iron tower in 1914.
Famous natives of Ballymurphy were: Edmund Byrne of Ballybrack, Archbishop of Dublin c. 1700 and Edward Murphy of Knockmore, Bishop of Kildare & Leighlin (1715-1724) and Archbishop of Dublin (1724-1729).
A new car park was added to the church in 1986. In 1987 the church was painted, re-ordered, and was given a new roof and ceiling. Eamon Hedderman was the Architect.
Patrick Breen of Barnahasken (1795-1868) was at the centre of the story of the Donner Pass in the Sierra Nevada mountains. He and his family joined others in 1846-1847 in the ill-fated passage through the snows of the Sierras in which 39 people perished. Subsequently the Breens flourished in the city of San Juan Bautista, California.