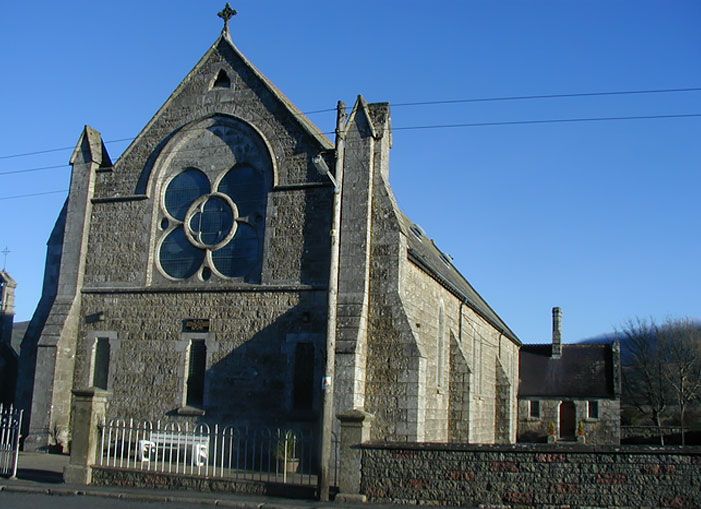 Mass Time:
Sunday: 9:30 a.m.
Devotions:
Adoration of the Blessed Sacrament – Thursday 11:00 a.m. to 6:00 p.m.
Date of Church: 1885
Architect: William Hague
Style: Early Gothic
Building Pastor: Fr. Patrick Carey P.P.
Sacristans: Eric Osborne (085-862 7891), Catherine Osborne (085-714 7994)
RATHANNA (RATHAN EANAIGH), (Fort of the Marsh) is situated at the foot of Mount Leinster. St. Fortchern established a monastery at nearby Killoughternane. He was a disciple of St. Patrick. The site for the present church was donated by Mrs McDonald, Rathanna, and adjoined that of an earlier church, St. Anne's. Prior to that date, the people had to attend Mass in either Borris or Ballymurphy.
The belfry of St. Anne's is still in use. Mrs McDonald, Rathanna, paid for the building of the church and for the original carved altar. The top portion of the stained glass windows behind the altar depicting Our Lady and St. Anne came from the old church. On 24th May 1900, the church was dedicated  by Bishop Patrick Foley.
On the 2nd June 1985, its centenary was marked with a Mass celebrated by Bishop Patrick Lennon. In 1991 the gallery was removed and internal porches constructed inside the east and west doors, and the work incorporated a lobby and reconciliation room. This work was carried out under the direction of Fr. Nicholas Moore P.P., by Murphy Brothers (Contractors) to the design of architect Eamon Hedderman. The roof was cleaned, leaded and repaired.
The churchyard contains the graves of the three members of the Shannon family, Knockroe, who died when their home was destroyed by German Bombers on New Year's Eve, 1941.