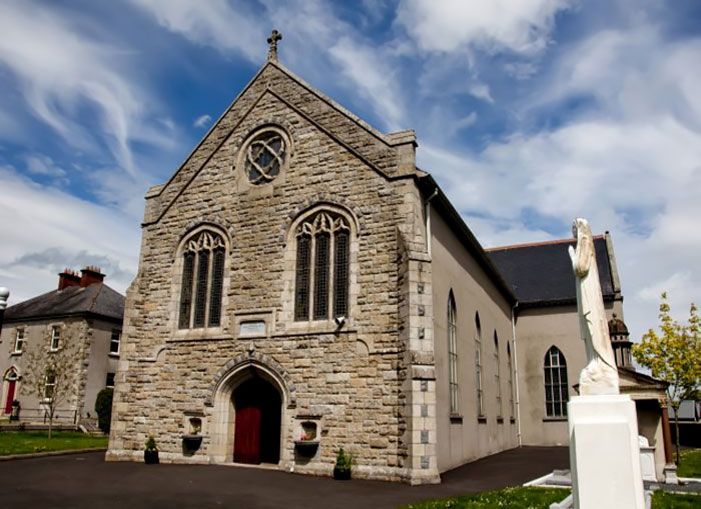 Mass Times:
Sunday: 11:00 a.m.
Monday:

No Mass

Tuesday: No Mass
Wednesday: 10:00 a.m. 
Thursday:

10:00 a.m.

Friday:

7:30 p.m.
Devotions:
Adoration of the Blessed Sacrament – Wednesday 10:30 to 1:00 p.m.
Date of Church: 1820
Building Pastor: Fr. John Walsh P.P.
Date of Enlargement: 1896
Parish Priest: Fr. Rory Nolan P.P.
Sacristan: Patricia McCarthy
Organist and Choir Master: Art O'Leary
Sacramental Coordinator: Audrey Lawlor
Liturgy Coordinator: Breda Dowling
---
BORRIS (BUIRGHEIS, A BURGAGE OR BOROUGH).
The Kavanaghs and of the Barony of Idrone, Co. Carlow, were for centuries the main obstacle to English rule at the limits of the Pale. In the 1700′s they possessed over 28,000 acres. By 1825 the Kavanaghs had adopted the Protestant religion. The site for the present church was provided by the McMurrough Kavanagh family of Borris House. The church has a facade of granite decorated with limestone which incorporates a Romanesque style doorway. The stained glass window over the main altar consists of three granite-framed panels depicting the crucifixion, with the three under portions depicting Sts. Fortchern, Brigid and Fiachra.
The sanctuary was re-ordered by Fr. Peter Boylan P.P. (1956-1985).
The church was re-roofed in 2000 by Fr. Nicholas Moore P.P. The architect was Eamon Hedderman, and the builder Sean Egars.
Dr. Patrick Lennon, Bishop of Kildare & Leighlin (1967-1987), was a native of Borris.